The clean energy industry is no stranger to rebranding, with DONG's metamorphosis into Ørsted last year the most recent high-profile example.
Following hot on its heels,
Statoil announced it was to rebrand as Equinor
, with the 'Equi' in reference to words such as 'equality' and 'equilibrium', and the 'nor' a nod to the company's Norwegian heritage.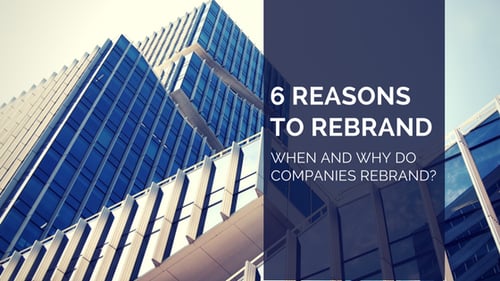 What both rebrands have in common – as well as involving significant industry players – is a repositioning of the respective businesses away from their roots in oil and gas in order to place greater emphasis on their clean energy credentials. Both DONG and Statoil's rebirth as Ørsted and Equinor, respectively, are motivated, at least partly, by the fact that renewable energy will play a much bigger role in the companies' future growth. The issue here, then, is one of timing, with both businesses recognising that their brand needed to keep pace with the diversity of their energy interests.
We've previously covered just what it takes for a successful rebrand to come to fruition, and the risks that need to be mitigated as a business's identity changes. But, as well its mechanics, it's worth understanding when and why you might want to consider a rebrand. With Statoil's reinvention expected to cost up to $32m, and the internet full to bursting of 'worst rebrand ever' type listicles, it's not an activity to be undertaken lightly.
Broadly speaking, there's two types of rebranding: proactive and reactive. Delving a little deeper, we've outlined some of the drivers that can merit a rebrand below. Of course, there can and often will be several factors at play when deciding on a rebrand, but each is worth keeping front of mind when it comes to assessing your own brand – and when you might need to shake things up.
Reasons for a Reactive Rebranding
1. The market is evolving and your customers' expectations are changing
"This doesn't reflect what we do anymore"
Sometimes, industry conditions or other external factors may indicate that a brand is simply past its sell-by date, forcing companies to make a change. If your target audience has moved on, then often you will need to move with them and cater for a new set of needs. A rebrand can be an effective way of demonstrating your continued commitment to – and understanding – of this audience and its priorities. Statoil's recent rebrand in response to the changing energy landscape fits neatly into this category.
2. Company mergers and acquisitions
"All of our marketing looks like it comes from two different companies"
"We need a new name"
Mergers and acquisitions are another common catalyst to a rebrand – and often a particularly delicate one to manage, given the need to weigh up the relative brand strengths of the two parties to any M&A deal. This is another scenario that the clean energy industry in particular has seen several times in the past, with high profile examples including Siemens and Gamesa coming together to form Siemens Gamesa in 2017.
3. A strong negative perception among your target audience and the wider market
"The moment people hear our company name they think of [insert something you don't want here]"
Unwanted negative publicity has also been known to spur on a company rebrand. While crisis communications is an essential part of any business's PR arsenal, senior executives may also look to a name change in an effort to distance themselves from a tainted brand more permanently.
Consider cigarette maker Philip Morris. By the turn of the millennium the brand had come to be synonymous with its cancer-causing product, and, in what was seen by many as an attempt to disassociate itself from cigarettes themselves, the business rebranded as Altria Group in 2001. While perhaps not the most inspired name, its relative anonymity when compared with the previous brand did achieve the desired result in fighting the close association with its cancer-causing product.
Reasons for a Proactive Rebranding
1. You are planning to change your main product or service
"We don't want to be associated with [insert a product or service] anymore"
As well as reacting to changing market conditions, companies will often use rebranding to seize a particular market opportunity or head off threats before they can develop. In the first instance, if a business is in the process of changing its product focus, a comprehensive rebrand can help amplify this and drive home the new product offering.
2. You are planning to change your main target audience
"This won't encourage the leading industry players to work with us"
As with planned changes to your core business offering, a creative rebranding may be equally necessary when looking to target new audiences. After all, as a business grows and develops, its customer base will naturally shift with it – and its branding needs to evolve in turn. What was once a compelling offering that served one audience well may not be as successful in targeting senior industry executives or those in new geographies, for instance.
3. Your brand looks dated
"I am embarrassed to give out our marketing materials"
"We are a great company but it looks like we are stuck in the 20th century"
A desire to modernise is another common justification for carrying out a rebranding exercise. While a strong heritage can often be an important asset for a business, over time all brands risk coming across as stale and old-fashioned. To address this, businesses will often look to update their logo, tagline, or both – rather than undergo a root and branch transformation that includes a complete change in name.
However, maintaining that balance between heritage and innovation in a new brand that remains closely wedded to the original can be particularly challenging.
Whatever the reason for considering it, a business rebrand can be a tricky exercise to execute successfully. Every year, countless football clubs, universities and even political parties seem to fall victim to the perils of a rebrand that alienates – rather than resonates with – their key stakeholders. And while no change on this scale will ever be universally welcomed, getting as much buy-in as possible will go a long way towards enabling the new brand to leverage the best of old and new.
Ultimately, the importance of a brand lies in its ability to immediately convey what your business is all about to your potential customers. If any of the above conditions particularly chime, or you've been considering undertaking a rebrand for some time now, consider reading more about what you can do to ensure it goes smoothly.