A client win story shows that you've succeeded in winning someone's business, but it doesn't convey why your firm is the right choice for anyone else.
Many firms fall into the trap of only approaching the press with their new business wins. Whilst it's certainly true that a successful PR campaign is about winning new clients and adding tangible commercial value to a business, announcing these wins won't tell your potential clients what they actually need to know about you and your work.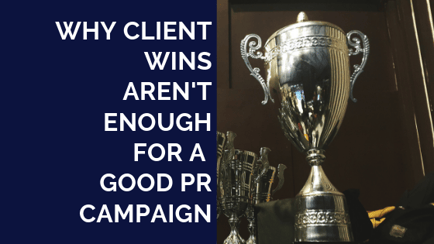 Furthermore, if you only approach the media with interchangeable client win announcements you can't blame them for disengaging with you.
If you really want your PR strategy to support and drive those big commercial wins, your campaign must include the other key stories and developments that happen within your business in between.
Don't our wins speak for themselves?
The short answer is no. A client win story shows that you've succeeded in winning someone's business, but it doesn't convey why your firm is the right choice for anyone else.
A truly successful PR campaign should be holistic, encouraging the industry to trust your judgement by spotlighting your expertise (as well as your new business successes) and increasing your visibility to potential clients.
To do this, it's crucial to develop your business's reputation beyond the commercial success stories by developing a reputation for thought leadership within your industry.
Why and how should I develop a reputation for thought leadership?
If someone is interested in buying a service or product, they don't just want to know that other people have bought it from you in the past - they want to know why your product or service is right for them.
The most effective way to do this is to develop your reputation as a thought leader in the media. This will improve your visibility to potential clients by giving you more stories to tell and demonstrate your industry expertise across the board, rather than on a specific win by win basis. It's fair to say that you won't gain a reputation as a thought leader overnight, but it's a reputation that's well worth developing over the course of a strategic PR campaign and through robust press office activity.
You can do this by sharing your opinions through interviews and profiles with trade media, publishing white papers and market reports, crafting opinion-based releases, intelligently responding to the news agenda and using your company's blog to discuss developments within the industry. Sharing your expertise through these channels and resources encourages potential clients to feel like you are providing valuable insight that is useful to their business prior to any commercial relationship.
Additionally, by sharing your opinions on industry developments and providing solutions to industry challenges; you will differentiate your company from your competitors by being responsive, creative and deeply knowledgeable about your sector.
Who cares about our company news?
Company news is another essential part of a strong PR strategy but it is commonly underestimated. Sharing internal company news offers you the opportunity to highlight the expertise of your company, increase visibility on social channels, and celebrate your growth.
For instance, announcing that you're opening a new office in an emerging market is a fantastic opportunity to comment on the industry developments which influenced this decision.
Sharing that your company has won (or even been nominated for) an award demonstrates your company as a leading player in the industry, impressing existing and potential clients.
Publicly celebrating your employees and their successes humanises your company and puts faces to names, making you more approachable to potential clients. It also gives you the opportunity to champion your company culture and attract more talented employees to join you.
Employee success is also more likely to be shared on social media than "faceless" news, so publicising personnel news as part of your PR strategy will increase the reach of your company name amongst potential clients and employees.