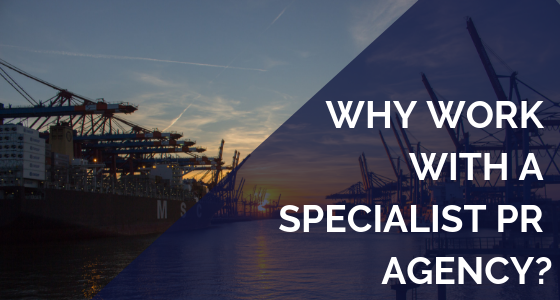 As a specialist PR agency, clients often ask us why they should work with us instead of a more generalist agency. It's a good question. In theory, generalists might have access to the same press lists. They might spend the same amount of time on your account and be able to boast the names of big brands among their clients, whether Facebook or Amazon. They might talk the talk, and perhaps even walk the walk, too.
That said, there are a few important benefits that a specialist PR agency brings you.
PT-what-now?
For a start, a specialist PR agency knows the sector. They know it, not in an 'Energy Practice' way – skilled professionals with a solid client book, who've spoken to a few CEOs they don't work with and are familiar with all the right journalists – rather, in a 'we're part of the sector', inside-out way.
A specialist PR agency knows your competitors, your suppliers and your customers; they know influencers, from CXOs down, through sales and engineering directors, to marketing managers and technical experts. And, of course, they know the journalists. They know journalists' favourite stories, what they write about best, and exactly where your story will gain most credence.
Of course, any PR agency can get to know a sector, but a specialised PR agency knows the sector before you phone them. There is no need for frustrating calls where the PR agency takes a little while to answer you because – and let's not pretend this doesn't happen – they're frantically Googling acronyms.
In the case of renewables, there is no need to explain what a PPA is, or how businesses are reacting to the PTC. More importantly, you don't have to run through twenty years of industry developments to make sure your sector positioning is right. They might even know you – the rest of the industry will know you soon. They, in layman's terms, get it.
In practice, this leads to better content. If you are the only renewables company in a sea of fashion brands, your PR agency won't know how to ensure your story sticks in the minds of your target audience.
Here's a story: a while ago, we were approached to promote a 'Renewables 101' whitepaper to help launch a brand. While the report had a nice ring to it, the target audience of key industry decision makers may not have appreciated the offer of an introduction to the field.
Your target audience works with their industry every day, so will recognise – and expect – true expert insights. As with any good content, it's best to write something that breaks from industry trends and catches the eye of your prospective client base. In order to do that, your agency needs to know the industry.
So, you want to speak to the Financial Times?
On a similar note, your specialist PR agency will know who you want to speak to and may already have relationships there. If you want to speak to a certain title, a PR agency which knows the sector also knows the journalists.
Knowing specialised correspondents across the globe is a huge boost to media relations. While press releases may gain you some hits, those matter a lot less than your agency telling you that someone at the FT wants to have lunch with you next week. Other agencies may get those hits, but they'll need to go to a lot more work to build up a relationship – if you choose the right agency, those connections are already there.
This is not limited to journalists. Recently, we introduced a new client to a variety of senior industry figures who we knew from regular events hosted by our sister company, A Word About Wind. PR is all about generating new leads, and if your agency can introduce you to a dozen of those by picking up the phone, choosing them should be a no-brainer.
How invested is your PR Agency?
The most important reason to go for a specialised agency is that they care.
This sounds wishy-washy, but I assure you it's not. A specialist agency really cares about a sector, from broad trends to engineering nitty-gritty. We want you to do well.
Why?
It's not just about saving the world. Every employee has come on board in full knowledge that they would be working in the sector, from the newest grad to the hoariest account director. If they made that choice, you can be assured they care. Moreover, agency success rides on the industry. A specialised agency lives and dies with its specialism.
In practical terms, this means you get to work with an engaged team of people, eager to help your business and get you new leads. Sometimes, they will surprise you with just how much they know or who they can put you in touch with.
At the end of the day, this is why you want to choose a specialist PR agency. They want you to do well, and they will bring in their sector knowledge and contacts to build your brand and help you win leads. For all that it may seem appealing to hire the same agencies as the big multinationals, ultimately, you'll end up as one of many clients across a whole range of industries. If you choose a specialist, they know the right people and, best of all, they know you.
Edited 27th March 2019 to add links.