When a high-profile player in high performing team moves to play for a rival, their biggest supporters can quickly become their biggest critics. Take LeBron James' 2010 dumping of Cleveland for Miami - fans were burning his jersey. They quickly got back on side however, when he returned to win the Cavs the 2016 title.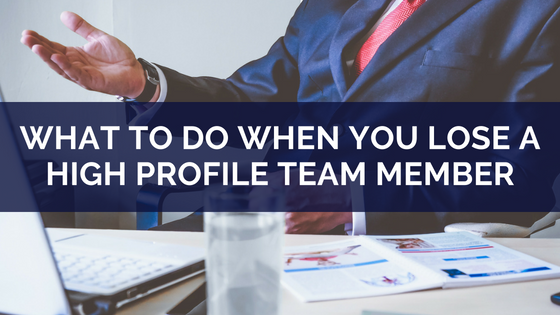 James' recent move to the LA Lakers hasn't been met with such uproar. Basketball fans seem to be excited about the switch up - with the legend now wearing purple and gold, things are hotting up for basketball.
If any employee ups and leaves to join a competitors' ranks, it's always a shame to lose a valuable team member. But when your LeBron James gets poached, then there's some PR to be done.
At the highest level, the player becomes a face of the league. The appeal of your organisation can be synonymous with your key media-facing employees. And as to many people LeBron represented the Cavs, your high-profile team members may represent your company's voice.
If the media are covering the move of one of your strongest employees to a rival company in the market, you're going to want to do what you can to protect your image and protect your brand. After all, your staff can be your biggest and most influential brand ambassadors.
Make ambassadors of your employees
It's really important that employees aren't treated any differently during their notice period. You want to stay friends – the media won't hold back when printing quotes from disgruntled ex-employees who've been whispered about by bitter colleagues on their way out.
On the other hand, if your star player is happy to talk about your company in a positive way, this can be of real benefit. A team member which can comment positively on their experience within your company will contribute positively to brand image, despite the loss of a star. This happens when you make ambassadors out of your employees.
An example of a high-profile employee who resigned as a brand ambassador is Travis Kalanick, who, upon leaving, stated:
"I love Uber more than anything in the world…" Travis Kalanick - Uber
Despite the controversy surrounding the company at the time, Kalanick's positive comment is exemplary of what you want your employees, should they leave, to be able to say about your business.
Create clarity in your internal communications
Make sure you communicate to the rest of the team about what has happened and the reasons why. A simple internal email may suffice or a quick 5-minute conversation on an individual level might be necessary, but all communication should extend an offer to your team to discuss the situation if they feel the need either reassurance or clarity on what it means for their role.
Make a splash of your own media
It is a likelihood that the media may release the news of a poaching in the industry if the employee is high-profile, so taking action places you back in control of your brand reputation.
Share a positive story of your own. Perhaps your new hire or another story which demonstrates the success of your business such as a new contract signing.
Draft a holding statement
You need a consistent company line which all team members can stick to when communicating with the media about the loss of your high-profile team member should you receive inbound media inquiries.
A good example of this is Henrik Poulsen, Ørsted's CEO and President who, upon the resignation of Samuel Leupold, CEO of Ørsted Wind Power, said:

"It's been a true pleasure having Samuel on the top team of Ørsted in the past five years. His relentless drive, sense of duty, strategic thinking, and professionalism have been vital to the development of Ørsted's wind power business from a relatively new and immature business to a fully scaled and industrialised global leader in its field. He'll be missed, but I fully understand and respect his decision and wish him the very best with his future endeavours."
This is a good example because it clearly addresses the situation and is positive about the relationship still between the company and Leupold, the high-profile employee leaving.
It's inevitable that some people will leave your organization; there wasn't much that the Cavaliers could have done to stop LeBron from jumping ship. But don't worry, it's completely normal for high-performing professionals to move around and it doesn't have to have a negative impact on your company's reputation.
Employee movement is usually a neutral event, as long as it's not acrimonious. In fact, the media is inherently more interested in where the person is going to rather than where they came from.
Whilst you may not be able to stop your LeBron from taking their skills elsewhere, you can make ambassadors of your team members and handle the PR and communications around the loss of a high-profile team member with tact and impact.