Let's say that you're a small to medium sized business going through a bit of a tough time; sales are falling, and you know that fairly soon you're going to have to think about rationalizing some spending elsewhere in the operations.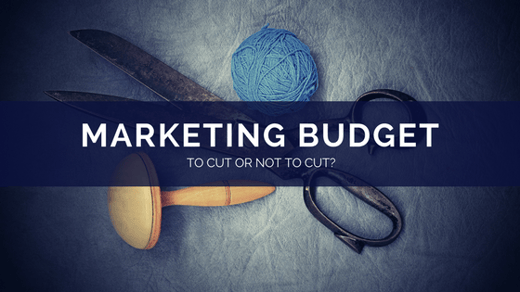 Where do you look first? Nine times out of ten, firms will cut spending on marketing first before they reduce it anywhere else. But why is that? Well, it's because the majority of businesses see marketing as a pure cost, and when times are tight, that means cutting headcount or reducing budgets.
(For the purposes of argument, I'm conflating a number of disciplines into 'marketing' including PR – the argument is usually the same.)
This I think leads to two strands of wider discussion:
Why isn't marketing valued?
Why shouldn't you cut that investment?
Do you value your marketing?
Firstly, too often, marketing is seen as the soft side of sales. The side that does the 'easy' stuff like pull together the events, manage the PR campaigns, generate the content. It's not seen as picking the up phone and striking a deal.
But just stop for a second.
Try picking up the phone and making that sale when nobody knows who you are, what you do, why your products or services have an innate value above those of your competitors, and how easy it is to work with you.
Marketing creates trusted brands.
If your sector is going through a torrid time, or you find yourself in a recession, consumers will turn to products they trust. And, under tighter market conditions, you might make it easier for your competition to take market share from you if you drastically cut your marketing budget.
Marketing – done properly – is an investment in your business. And given the sheer opportunity afforded by marketing in the digital sphere, it's never been easier to track the effectiveness of campaigns, ad spend, or even now, in-bound opportunities delivered through PR content.
But focus on the important bit 'done properly'.
Yes, bloated marketing budgets do exist, and the last 12 months have seen major household brands, collectively, cut billions from their spend, arguing that they are struggling to see the real value.
So, with that in mind, and to avoid wasting precious resource, you have to ensure that you can account for every cent. But how?
Review your marketing budget and activities
"My sales are down, how can I risk this spend now, and what if I don't see a return on investment?"
We hear this reasoning more often than not, so before you start cutting, audit all your current marketing activity first.
Ascertain what can be measured (so much these days, as alluded to earlier) and what is less precise. If you want to retain that laser focus, then work internally, or with your outsourced marketing partners, solely on what you can measure and set clear goals for the activities you plan to invest in.
Now, the PR practitioners amongst us (myself included) may start to be a bit nervous here (PR's an art, not a science, right?), but if you set your campaigns with measurement in mind, then it's achievable.
Once you know what you're benchmarking against, put it into a plan. So many companies claim to have firm marketing objectives, but when it comes down to it, most spending is just set against 'growing revenue'. Obviously that's the final target, but there's no accounting for 'how' you intend to get there, which means that marketing budgets rapidly get absorbed into varying (and sometimes contradictory) tactics.
If you haven't clarified what your desirable results are, how do you know if your communications campaign has been a success?
Most commonly, we tend to see advertising budgets accounting for the majority of investment, but often completed in isolation without a firm plan or reasons other than 'we've always advertised in this publication because we think it's well read'. (There's a much longer debate into PR vs advertising, but that's for another day.)
So, if you want to add a more nuanced approach, you should think about how you can measure and monitor the results of that advertising budget, which you can easily do so with pay per click, social media and downloadable content like ebooks or white papers.
Create an effective marketing plan
With the above in mind, if you're going to make the most of your marketing spend, then think about the following:
1) Have a plan and set clear goals.
We've talked about the danger of vague targets to running away with marketing spend, so rather than just thinking about revenue, take a step back. If you have a revenue number in mind, how many sales is that based on your average sale value?
So, for example, if you need to make 10 sales by the end of the year, work out your conversion rate. How many active conversations do you need to be having to in order to convert a suspect to a prospect, a prospect to a lead, and a lead to a sale? Start with that number and then begin to think about how marketing can help you hit the big starting number. Make sure your communications and sales teams work together but don't focus on marketing getting you closing the deal at the end – that ball is in sales' court – look at the volume of conversations you can start.
2) Understand your buyer personas.
Who's your ideal customer and how can you target them more accurately? How can you use a mix of marketing channels and activities (blog posts (like this!), emails, and good old fashioned PR) to reach them at the right time? After all, products and services that satisfy a 'need', or solve somebody's problem are those that are most searched for. If you're not visible in those searches, and you don't understand how your buyers look for you, your spend will be ineffective.
3) Focus only on campaigns that you know will really reach your audience.
There is a lot to be said for using B2B marketing as a continuous drip feed for brand building, and over time this certainly has results. But, if you're struggling to make the investment decision in the first place, then ensure that you focus only on that activity that is specifically geared towards them. Look at particular campaigns that solve a buyer need, or are on trend with what's going on in the wider market.
4) Focus on efficiency rather than shiny new things.
Going back to those 10 sales, what methods are you going to use to secure visibility with those buyers? And what will you be saying to them?
You can target multiple streams in your marketing plan, but if you're going to do so, you have to ensure that you're promoting the same consistent message. If you're looking to be efficient, better to rule out the possibility of confusing the market with different offerings across multiple channels and focus solely on one initiative. In the majority of cases, this is where Public Relations campaigns play most strongly, affording a consistency of content and copy and the dissemination of clear market messages.
5) Measure
Come full circle – almost back to point one. If you answered all of the above, then actually measure your success. It can be a painful conversation to admit what might not have worked, but you'll have to go through the process if you want to understand how you can spend most effectively. We've outlined why there's more scope to measure your campaigns today than ever before, so take advantage of the fact.
If you're going one further and considering whether it's the right time to find a marketing or PR agency partner to work with you, then it's perhaps a slightly easier decision. Any good agency should allow you the flexibility to not only set some firm performance KPIs, they should also be prepared to work flexibly with you.
In short, there isn't an easy answer to running a marketing campaign when your sales are a bit slow, but before you start cutting head-count or campaign spend – have a think about some of the above.