Managing the reputation of companies in the renewable energy ecosystem is our daily bread at Tamarindo. Our success is based on promoting our clients' successes and boosting the visibility of their brands.
However, it is often hard to objectively measure the visibility of your brand and, of course, building a solid reputation is not easy. It requires investment and dedication. Once achieved though, a good corporate profile can repay the effort many times over, by creating opportunities, sealing deals and providing insurance against corporate hiccups.
Whether you are a consultant, engineering company, financier or logistics organisation, it is important to think about the value of your corporate reputation and how to improve it.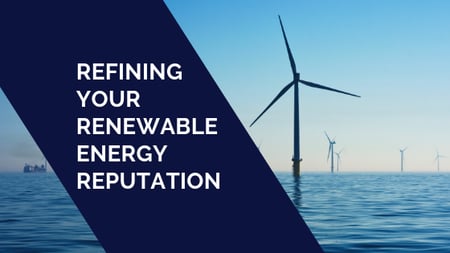 Here, we look into the areas of PR and marketing which can help you to build and nurture your reputation in the renewable energy industry. These include:
Boosting your reputation with regular media coverage
A trade publication is a magazine, website, or journal that serves a specific business or industry audience. As a business who works with or sells to other businesses rather than consumers, regular trade press coverage has a strong influence on your reputation by landing your company in the lap or screens of your target audience.
Examples of trade publications within the renewables energy sector include long-established titles such as Recharge and Renews, who publish news from across the broad renewable energy industry, Windpower Monthly and Offshore Wind Journal address the wind energy sector specifically, and International Waterpower and Dam Construction, which serves the hydropower sector.
All of these publications inform and educate audiences on developments, opinions, and commercial announcements in their specific sectors within the renewable energy industry. The readers of trade press like these examples are engaged in that particular industry.
This means that, if you work in the renewable energy industry, the readers of publications like these are your customers, competitors, and commentators.
Naturally, getting your business in front of these audiences regularly through positive stories will support – and build – your company's reputation.
Check out our blog post which details four reasons why regular trade media coverage is good for your reputation.
Risking reputation on social media
Having a strong social media presence can help to build awareness of your brand and support your reputation. But what about when it risks damaging your reputation?
As part of a wider PR campaign, there are a range of benefits of being active on social media. For example, tweeting and posting on LinkedIn regularly can show authenticity, bolster your messaging and encourage people to engage with your company.
There are a number of questions a renewable energy company should ask themselves before embarking on a social media marketing campaign. But once your social profiles are up and running there are certain tactical things to look out for so that your efforts don't go the other way and end up damaging your reputation.
In a recent blog post, we detail 5 things to look out for on social media which could risk your reputation in renewables, including keeping it snappy and finding that regularity sweet spot.
Blogging to build your reputation
The fundamental questions a lot of potential clients or buyers will be considering when they come across your company are how you can help them and what you know. Today's buyers will do their research before reaching out to your sales team, and the larger the purchase the more research they'll do. Building a resource for buyers' research which leads them to reach out to you is the main purpose of blogging as a business.
Keeping your blog up to date is crucial to distinguishing yourself from your competitors and showcasing your sector knowledge and experience to attract interest from potential clients. When it comes to sales, it's all about reputation.
At the end of the day, a blog offers a powerful and enduring way to communicate with your audiences, and elaborate on the role your company plays. What are you waiting for?
Click here to read why we think, as a renewable energy company, you should be blogging.