If, 40 years ago, when the first IVF baby was born and James Callaghan was the British Prime Minister you had asked the question 'what is the difference between public relations and marketing?', you would have received a very different answer than if you had asked that same question today.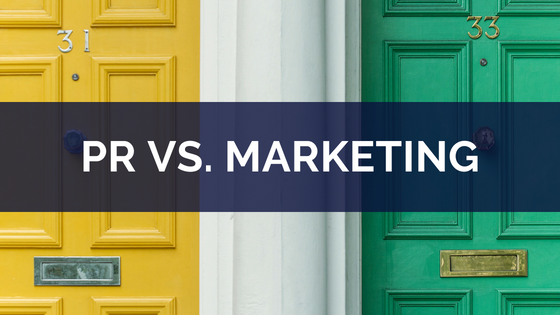 The fact is, both PR and marketing have evolved to become almost unrecognisable from their traditional forms and, as such, traditional understandings of what makes them different from one another are not applicable.
However, too often, 'modern' public relations and marketing are grouped together as a single category and yet, although they are certainly more closely related than in their traditional guises, they still remain two distinct areas of business.
What are public relations and marketing?
Public relations
The fundamental goals of PR are to drive brand development and brand engagement. Public relations has evolved significantly since its creation as a concept; traditionally, PR's role was to boost a brand's reputation and it had little or no impact on sales. Now however, PR has to prove its worth in terms of commercial gain and record, via multiple metrics, to demonstrate its impact on a company's development.
Marketing
The role of marketing has also evolved from its traditional description as the section of the company which creates advertising. Now the core goals of the marketing team are to generate and nurture leads in order to produce contacts for the sales division.
Perhaps the most famous example of a successful marketing team is that of Apple. By creating minimalist, simple and seamless advert campaigns and branding, they have created one of the most successful brands ever invented and have created the first company ever to be valued at $1 trillion.
Tasks and responsibilities in marketing and PR
In today's communications, campaign content is king. Both PR and marketing specialists spend a lot of their time developing new content. This is the area where the responsibilities start to overlap - a white paper can be written by both – but there are plenty of responsibilities that are still clearly distinct.
PR professionals:
Marketing professionals
In a nutshell, today's marketing specialist has to attract new leads for the business and nurture these contacts via email, social email and other channels until they are ready for a conversation with the sales team.
Marketing responsibilities are varied but generally include the following:
Content creation which includes blog posts, ebooks, emails, social media creatives, website copy and so on
Build social media strategies, update and manage relevant channels to promote the company brand and engage with current and potential customers
Carry out competition and market research
Develop and deliver communications campaigns to introduce new services and products to the market or to promote events
Analyse the data to measure the effectiveness of marketing campaigns
Manage all digital communications channels for the company
Be tech-savvy and comfortable with things like learning new software, some basic HTML and figuring out how company's CRM and CMS works
Measures of Success in PR and marketing
The true end goal for both public relations and marketing is business growth. Whether through winning new work because of the latest campaign or by being to charge premium because of the brand strength, if the company numbers are going up, it means the communications team is doing something right. The trick is finding out which activities bring the most value.
Marketing
There are many articles written about ways to calculate your return on investment (ROI) for marketing. In this technology era you can track almost anything. Depending on your campaign goals, the success of a marketing campaign can be measured by:
The traffic growth to your website
The number of subscribers to your newsletter and the list growth
The open and click-through rates of your emails
The number of downloads of your latest ebook
The growth of engagement rate on social media
And many more
PR
The impact of public relations is harder to calculate. If you are lucky, you might get a direct business enquiry off the back of a report that your PR team delivered. However, quite often, the work your PR team delivers brings long-term value in less obvious ways than when compared to marketing.
That doesn't mean PR success is impossible to measure. On the contrary, good PR campaigns always have clear performance KPIs. The success of a PR campaign might be measured by the following:
The number of positive articles and mentions about company products and the brand in relevant news titles and industry-specific publications
The number of media interviews secured
A significant speech made by a company executive at an event in front of their target audience
Inbound enquiries off the back of a thought leadership piece, such as a report
Industry awards
All of these metrics paint a picture which shows the rate at which a company is acquiring new leads, through which channels they are being acquired and how many of these leads become clients. This then allows you to calculate the cost per acquisition (CPA).
What's the difference between marketing and PR?
Data and automation
Marketing tends to be more data driven than PR and is much more likely to take on new technological developments and alter its operating style accordingly. For example, the development of automation and AI as a widely available tool has allowed a proliferation of automated 'chatbots'- live chat functions on company websites that are programmed to allow a bot to answer a simple question from a user (and potential lead). Of course, the bots are not yet sophisticated enough to answer more complex questions and, as a result, must have a person monitoring them.
Creativity
Marketing also tends to be a more visually creative sector of the business than PR (aside from PR stunts). It deals with the website, email and content design, whereas PR's creativity is normally limited to creative writing.
Generally, marketing teams manage the social media associated with the brand and, depending on the company in question, may be tasked with making the seemingly dull seem interesting and photographable. For example, Barclays bank's Instagram account tries to step away from the boring image of finance and men in suits, instead highlighting projects and entrepreneurs they have helped to finance. With 13,000 followers, it seems to be a tactic that is working.
Content Marketing
However, the above differences are being tempered by the advent of content marketing.
Content marketing has been described as 'the future of PR'. In essence it combines content and measurement in order to demonstrate the return on investment of your PR strategy.
There is now a plethora of information online explaining how to utilise content marketing techniques to your advantage. The four key stages are focused on:
Creating good quality and targeted content
Converting visitors to your content into leads by getting in contact
Maintaining relationships through emails, adapted messages and pipeline management
Consistently delivering a positive experience and product
The leads generated through this marketing can be measured and analysed through CRM tools in order to demonstrate the ROI of an investment strategy.
With the surfeit of media channels available, successful content marketing strategies can be created on anything from video marketing, such as Hootsuites 'Unite Your Social Kingdoms' video play on Game of Thrones, which has been viewed over 850,00 times, to online publications which contain relevant content, such as Simply Business' 'Small Guides' series, which contain information on everything from LinkedIn to Facebook.
PR and marketing have come a long way from their traditional definitions. They are undeniably more closely linked than they have ever been before but some key differences remain. With content marketing being cited as 'the future' of PR, it seems likely that the boundaries between them will become ever more indistinct. However, for now, they remain related, but not identical, sectors with different jobs, targets and measures of success.