I've been agency side for almost 15 years now. In fact, the truth of it is that when it comes to executing business to business campaigns and delivering results, in my own career, I've known no other way.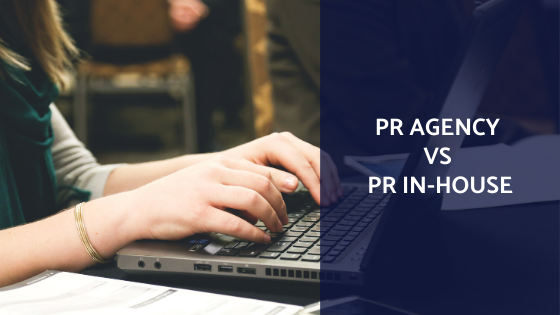 That's not to say that I haven't been tempted to make the switch in-house of course. And the offers (yes, there have been a few!) over the years have always been carefully considered. Nevertheless, the simple fact remains that, 15 years on, I remain deeply comfortable with the agency model. This is for one primary reason.
That is, when you work agency side, you're a fee earner. You're a revenue generator. And by proxy, you remain a valuable, income-generating asset to whichever PR agency you sit within. Sure, you might occasionally be taking a marginally lower pay cheque than your in-house counterparts, and sure, the pressures are fundamentally different – but then, so too is the learning curve, and the simple fact remains that for all the while you remain agency-side, you're selling your services. You remain a gun for hire. And because of that, you're not seen – whether true or otherwise – as a cost, or as an expensive overhead, to the business or team you sit within.
This is something that, to my mind, has profound implications, both for the clarity and objectivity of advice and counsel that you give, and for your standing and perceived value within a client business.
So, cards on table, I have a natural tendency to always fight the corner of the PR agency. But the reality is that, for many business development teams and their businesses, sometimes it's just not that simple. And, in truth, there are plenty of occasions whereby developing and building out an in-house team could well stand a growing or established business in far better stead for the future.
With that in mind, I thought it was about time that someone, agency-side, was big enough and brave enough to set the two options side-by-side for consideration – to compare and contrast some of the strengths and weaknesses of both approaches – because, as ever in life, these things are never clear cut. So without further ado, here goes –
An in-house PR team
An in-house PR team that works is a true force to be reckoned with. At their best, they're commercially-focused, ruthless and clinical in their campaign planning – with an ear, or often a seat, at the Boardroom table and with a clear and unshakeable understanding not just of the commercial strategy of the business, but of all the key individuals locked within it.
An effective in-house PR team knows the workings of the business like no other department, they have unrivalled access to anyone from the shop floor to the CEO and they and have an implicit understanding of the products and services on offer – and how best to position and place them in the market. The most effective in-house PR teams often run the show like a fast-paced newsroom, with rolling Key Performance Indicators and campaign metrics and an unsurpassed understanding of the media that the company really need to be working with.
At the heart of this team is often a single individual, who'll be almost permanently online, will be able to bend the ear of the Board and will shadow, push and cajole junior sales folk into thinking more dynamically about lead generation, reputation building and influence.
Be under no doubt, an experienced, well-funded and highly incentivised in–house PR team is a real force to be reckoned with. They know their stuff and woe betide anyone who gets in their way –brand and marketing executives included.
5 in-house PR strengths
1) Unsurpassed commercial knowledge. Get to know one company inside-out
2) Deep vertical sector experience and know-how
3) Dedicated full-time and exclusively to the business and to the brand
4) Commands the trust of the business, from the Board to the shop floor
5) Bucket loads of in-person face time with the sales and business development teams
5 in-house PR weaknesses
1) Expensive and time-consuming to set up and manage the right team
2) Lack of visibility of what competitors are doing in the market, leading to commercial bias
3) Harder to challenge commercial decisions, as team quickly seen as an expensive overhead
4) Can become pulled into wider internal politics, creating a distraction from key objectives
5) Campaigns can quickly suffer from internal lethargy, lacking wider market context
A PR agency approach
When they work – and when a campaign is really flying - boy oh boy can a PR agency deliver results.
Smart senior business development and marketing teams who recognise this hire PR agencies that are hungry, that have focus, and that have a clear and proven commercial and creative drive that means the campaign that they create consistently delivers. Indeed, there's a great deal to be said for the level of results that you can generate when you get a PR agency delivering against a really powerful and compelling PR brief that provides just the right balance of carrot and stick.
Any agency worth its salt will recognise and understand all of this and will actively seek out clients that share these values. These clients will recognise that it's a partnership - not a supplier-purchaser relationship – and understand that the investment made not only includes the retained fee structure but, perhaps more importantly, a regular time commitment to the cause.
In other words, a PR agency works best when it's given the right level of ammunition - or the right amount of information and insight - to deliver powerful, clear and compelling content that attracts the eyes of the target audience across multiple channels.
That said, the reality can often fall short. In the UK alone, there are over 350 PR agencies generating comfortable six-figure client billings and, with so much choice available, finding the right agency with the right approach can be harder than you first think. Bottom line? Investing in a PR agency relationship takes time on both sides. It's as much about cultural fit as it is commonality in skill set. And to find the right agency, you might first need to be prepared to try one or two different agencies out for size first, before you find that perfect partner. When you do though, rest assured that the determination can pay you back tenfold when it comes to campaign results and pre-qualified sales and lead generation.
5 PR agency strengths
1) Access to senior thinking and talent that surpasses the level at which you'd hire in-house
2) Quick to set up and get started – you can start seeing results in days, without the HR
3) Clear benefits from a wider commercial aptitude and focus, adding context to a campaign
4) Cost effective, with fee structures significantly undercutting the costs of internal appointment
5) Lack of an internal political agenda leads to stronger, contextualized messaging and stories
5 PR agency weaknesses
1) A PR agency campaign is only ever as good as the information that's it's provided with…
2) The best PR agency campaigns require strong internal management, to remain time-efficient
3) A PR agency will require regular contact, management and ideally in-person team time
4) Without management, a disconnect can develop between perceived valued and results
5) There can be a tendency for a senior agency team to win your account and then disappear
It's worth checking out our other blog posts if you want to find out more about how to more effectively navigate the relationship between PR agency and in-house teams.