Having regular coverage of your company news in industry trade media publications will support the reputation of your company. Here we detail four reasons why.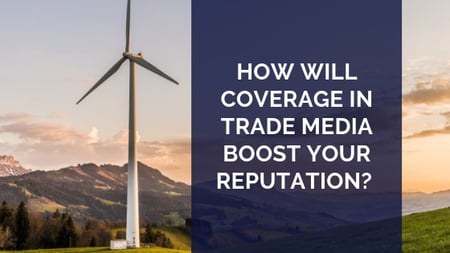 A trade publication is a magazine, website, or journal that serves a specific business or industry audience. As a business who works with or sells to other businesses rather than consumers, regular trade press coverage has a strong influence on your reputation by landing your company in the lap or on the screens of your target audience.
Examples of trade publications within the renewables energy sector include long-established titles such as Recharge and Renews, who publish news from across the broad renewable energy industry, Windpower Monthly and Offshore Wind Journal address the wind energy sector specifically, and International Waterpower and Dam Construction, which serves the hydropower sector.
But these are just a handful in what, some may be surprised to learn, is quite a long list.
All of these publications inform and educate audiences on developments, opinions, and commercial announcements in their specific sectors within the renewable energy industry. The readers of trade press like these examples are engaged in that particular industry.
This means that, if you work in the renewable energy industry, the readers of publications like these are your customers, competitors, and commentators. What's the point in building a reputation if it's not with them in mind?
Naturally, getting your business in front of these audiences regularly through positive stories will support – and build – your company's reputation.
But why?
Become a thought leader in the industry
If your name comes up regularly you'll become a mainstay of the industry, and develop a reputation as an authority.
Likewise, if you become a go-to for media commentary, you'll be seen as someone worth talking to from a business perspective too.
By showcasing your company's expertise and establishing yourself as a thought leader in front of your peers, you can influence readers into considering your suggestions and opinions in terms of their business strategies – and with that influence, you can win work.
Get in front of the right people
Trade magazines target niche audiences. And not in the small and shallow sense of the word.
This niche is already interested in – and likely working in – the same industry as you. This means that they're also likely to be interested in buying your products and services, and buying into your opinions.
You wouldn't let the opportunity to meet a prospective customer pass, so why avoid getting in front of multiple prospective customers?
Build brand recognition
Getting your name in front of a trade magazine's audience can help create relationships down the road.
If decision-makers continue to see your business's name in the publications they read, that recognition may just push that key contract over the line.
Stay at the top of a search
Regular, positive results in the trades can support a long-lasting reputation with the people who matter, the people who will come back to you for business time and time again.
And crucially, by appearing regularly with the core trade titles, you can ensure that this coverage plays a fundamental part of your digital strategy – as regular coverage from trusted resources keeps you on the first page of Google.