Financial adviser Vanguard is on the rack because its US ESG Exchange Traded Fund (ETF) contains oil & gas companies, despite the product description stating it specifically excludes them.
In fairness to the FT, which covered the story, the companies it names are slathered in oil: Schlumberger, Marathon Petroleum and Kinder Morgan.
But hold-on, Schlumberger also service the geothermal industry - that's renewable. Is Schlumberger an O&G company, or is it actually an operations service provider with interests in O&G? Vanguard's portfolio contains many stocks from the banking industry, among them JP Morgan and BoA who provide vast funds to the oil & gas industry, but they also invest in renewables. And AIG is in there, which, from a scan of its website, doesn't insure renewables. Caterpillar are also in the ETF…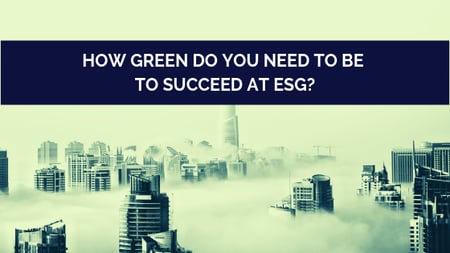 So where do you draw the line?
How green does a company have to be, in the past, now, or in the future to be considered socially conscious? How quickly does a company need to wash itself down to satisfy ESG investors?
As a service provider, at what point does your renewable energy team count more for you than your oil & gas team counts against you? Are you making a transition to sunlit ESG uplands, or simply making a sensible play to grow in a new, but related, sector? As an example, one of the renewable energy industry's true champions, Ørsted, recently changed its name from Danish Oil and Natural Gas.
At Tamarindo, while we specialise in renewable energy communications, many of the businesses we work with have a foot in both camps. They service the renewable energy industry, but also have clients in mining, oil & gas, shipping, and so on. We recognise having experience in a carbon intensive industry, or earning most of your revenues from the fossil fuel sector, doesn't need to be held against you in the renewables space.
While both investors and a business's customers are looking to hand over cash and get a return, they value ESG differently. Without getting into arguments about the short-sighted nature of one side or the other, in their stance on ESG, businesses it would seem are more tolerant of past activity than investors might be.
Tamarindo recently looked at company reputation in the North American renewable energy sector, measuring promotional activity and its impact across digital, social and news media channels. We were not surprised to see that nearly half of our top 100 companies in the Renewables Reputation Index North America 2019 were companies that work in renewable energy as well as oil & gas. Despite muddied past behaviour, these businesses were prepared to promote their reputation in the industry, unafraid of being pulled up on their ESG credentials.
Why have some businesses been able to do this?
From a reputation building perspective, renewable energy new business directors have had to compete for audience share; against their competitors in the renewables sector; against competitors elsewhere in the energy industry, including fossil fuels; and perhaps closer to home, with oil & gas specialists in their own companies. The Renewables Reputation Index recognises these successes.

If the renewable energy industry is to drop the alternative tag entirely, it can't just rely on innovative and enthusiastic pioneers. It will need businesses that understand how the world works, that have been there and done it in other industries. It is the nature of the energy industry that oil & gas experience is transferable to renewable energy. Businesses with an oily past will need demonstrate their renewables expertise in order to overcome their existing reputation and succeed in a new industry.

If you are a business targeting the renewable energy industry how is your marketing team supporting the business development team to make inroads on the industry and win new work? Our data experts will soon be crunching the numbers on RE reputations for the RRI Europe 2019. If your brand has had a stellar year in Europe, the data will tell us.
Or you can drop us a line to be doubly sure.