Graduation is on the horizon and you're looking for a career where you'll do something valuable for the world. But you don't need to be an activist or politician to have a job where you can help stop climate change...
Climate change is big in the news. And for the last couple of years (when Brexit's off the front page, at least) climate change has often been the news. Whether you're reading about Trump and the Paris Agreement, the United Nations 1.5 degrees report, or climate protesters talking control of capital cities, it's obvious that the continued reliance on coal and oil by countries around the globe is becoming a bigger and bigger problem with every passing year.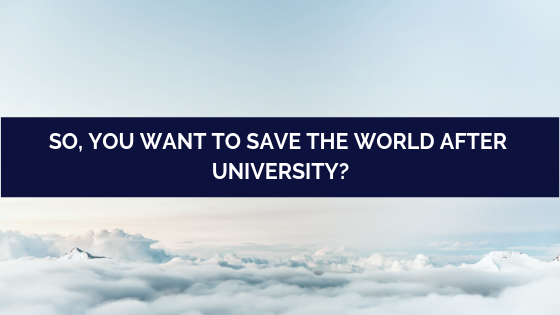 It's clear that the world needs to take action now to prevent a catastrophe facing the wider environment and human survival in equal measure.
So, where do you come in? You've seen the news. You've probably got frustrated at the news. You might have thought to yourself what can I do?
And, maybe this thinking has been timed perfectly with that big question….
...what should I do after university?
There's a chance you've already started thinking about what career path could see you tackling climate change. This could involve politics, or maybe you've thought about working in an environmental think tank or charity. But – and bear with me, political optimists – have you thought about business? Have you thought about PR?
Firms across the globe are driving clean energy adoption. Yes, they're commercially focussed businesses and have a mandate to grow their operations by securing new work, but you can't deny that they're shifting the world towards renewable energy.
PR is a fundamental part of this process. Working in renewable energy PR means working with clean energy businesses to tell their stories, help win them new work, and secure the future growth of their industries for the benefit of the world's low carbon future.
Drive the world towards clean energy...
Specialist PR agencies like Tamarindo support these businesses and their commercial goals, raising the profile of clean energy businesses to become the benchmark for their industry and beyond.
Whether we're working with clients who finance multi-million-dollar renewables projects, clients who construct wind turbines, or clients who write the operational software that keeps renewable projects online, we're showing the world that relying on fossil fuels is outdated, unhelpful, and frankly just a bit mad.
So, what should you do after university? Caring about reducing carbon emissions globally and wanting a career where you can contribute to this doesn't mean you have to go into policy. Your options are far broader than that.
Choosing PR is one career that will see you involved with clients from day one. You can think creatively and be supported in airing your big ideas from the start of your career - and you'll see these ideas through...
...even if the government changes.
This article was updated on Monday 19th February 2019.