Nike is one of the leading sports brands globally, and often has brand deals with big names in sports including the likes of Michael Jordan and Serena Williams, as part of the company's growth strategy.
Colin Kaepernick has now been announced as the newest face of the Nike brand.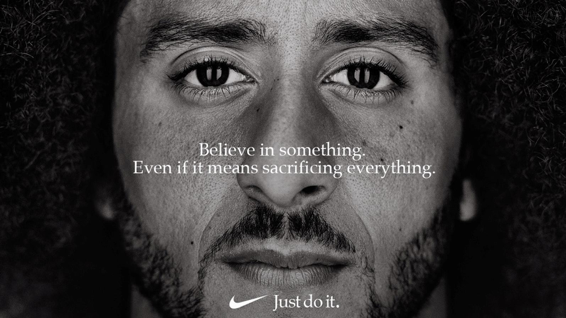 Now this is quite a big deal.
The reason why this is such a big deal is that Kaepernick's act of taking the knee during the national anthem at NFL games sparked huge debate as to whether or not it is unpatriotic or is the right thing to do as a way of protesting against racial discrimination in America. It was made an even bigger deal when President Trump chimed in.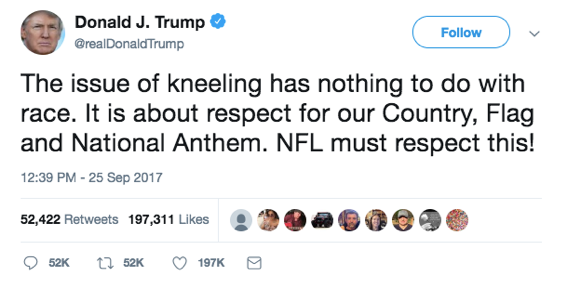 And then celebrities and other sports stars showed support of Kaepernick by taking to Twitter or taking a knee themselves, as summarized in this video.
This deal and advertising campaign is a pointedly political choice from the sportswear giant, and more than just a branding decision. It takes a stand in support of social issues and positions Nike's brand as supporting Kaepernick's subtle protest against racial injustice. The ad has been said to be a subtle but significant sign of Nike's strength and confidence in its position in the marketplace.
It was Nike's confidence in its position in the marketplace that allowed the leading sports brand to take this stand and take what some may see as a risk to their brand reputation. Brand confidence doesn't appear overnight, but it is important for when developing a branding strategy and communicating your value to your customers.
Three branding lessons for renewable energy businesses from Nike's latest campaign
1. Stand for something
It's important to communicate a clear message about what you stand for and how you are different from your competitors. How is your predictive maintenance technology for wind turbines different from others' in the market? How does this product enable turbine owners to extend the lifetime of their assets? And in turn, how does this outcome support your company vision for the world's industries to be powered by renewables?
If you stand by this vision, then your branding and communications should reflect it.
2. Have an opinion
By establishing your company's opinion, you will find it a lot easier to communicate it through PR and marketing efforts. For example, when representing your company as a spokesperson in a media interview with the editor of a leading solar energy focused magazine, if your company has a strong opinion on the issues that are happening in the market, you will find it a lot easier to discuss these issues with confidence, and communicate your company messaging.
If the media is talking about the increase in solar energy funding in South Africa, your brand will be strengthened if your company has an opinion on how this is going to impact the country's employment rates and renewables capacity over the years to come.
3. Communicate it well
Some brands fall victim to copywriting that's too vague, too over-the-top, or just doesn't paint an accurate, stand-out picture of their brand. This is just one branding mistake that can undermine your company's image.
If what you stand for and your company opinion are clear and consistent, then communicating it should be simple. Don't over think it. Use that confidence and power that making a brand decision has given you and communicate it clearly.