Ultimately, establishing your expertise is what will win you work.

The fundamental questions a lot of potential clients or buyers will be considering when they come across your company are how you can help them and what you know. Today's buyers will do their research before reaching out to your sales team, and the larger the purchase the more research they'll do. Building a resource for buyers' research which leads them to reach out to you is the main purpose of blogging as a business.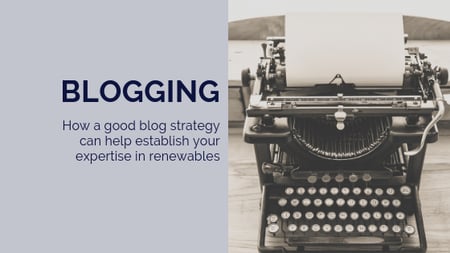 Keeping your blog up to date is crucial to distinguishing yourself from your competitors and showcasing your sector knowledge and experience to attract interest from potential clients. When it comes to sales, it's all about reputation.



What do you know?
In blogging, there are many well-documented and important things to consider, such as spelling and layout. Don't overload the reader with information, but don't leave them with more questions than answers. Don't write as though you learned English from a law textbook, and certainly don't write as though you learned it from MSN Messenger.

Most important is to communicate your expertise in a way that readers can understand.

A well-written piece of thought leadership can answer the problems your customers face, guide their thinking, and highlight exactly why they should come to you: you know what you're doing.

A blog from a senior executive can really show your in-depth sector understanding and establish the credibility of your service offering. In short, it can really boost your reputation.

That does not mean singing your own praises: it means writing about your sector in a knowledgeable way. You should, of course, mention yourselves in the blog – let's not pretend you're writing for an impartial publication – but demonstrating your expertise in the sector first lets you demonstrate how your business fits into the wider picture, and the essential role it plays.

Over time, a series of blog posts will build up into a record of your expertise, and – hopefully – become the first port of call for those looking for advice about your specialism. This is the start of a relationship which leads to winning work.



Who am I?
One of the key purposes of any website is to communicate a company's message. Are you mechanical engineers using data to streamline your operations, or data scientists trying to bring your techniques to real-world scenarios? Are you a construction firm that also works on renewable energy projects, or a renewable energy company specialising in construction?

These might seem like superficial differences, but they make a big difference when it comes to how you are perceived by potential clients.

Visitors to your website will be looking for what makes you the right partner for them and why they should choose you, rather than some other business.

Without a blog, this is a non-starter. You might have a strong internal idea of what drives your business, but that external communication is essential to passing that on to the outside world. While some of this can be communicated through other media outlets, social media and, to a degree, design, that is nothing compared to the power of words directly from your office, resonating with the authority and sense of purpose that drives all your operations.



Go back to your roots
Successful blogs are based around 'pillars': central themes that guide topics. Here, for example, we're building up a series of blogs based on the importance of reputation – and how to sustain it. Over time, this builds up into a powerful fossil record of your company's evolution.

Blogs aren't just a way to attract Google to your homepage – although that is a role they play – they form a record of your thinking and your long-term expertise.

Suppose you come across a new website for a company. If they have blogs dating back years which discuss developments in the industry, you know they understand their business. Moreover, if you can see consistent ideas and messaging throughout, you know you're dealing with a sincere, on-the-ball company that understands their position in the sector.

When's the best time to start blogging? Now. With a plan of content, you will soon develop the type of thought leadership record that demonstrates your long-term, sustained expertise and experience in your chosen field. Over time, this boost to your authority will draw in more qualified leads for you to convert into work.

At the end of the day, a blog offers a powerful and enduring way to communicate with your audiences, and elaborate on the role your company plays. What are you waiting for?