Having a strong social media presence can help to build awareness of your brand and support your reputation. But what about when it risks damaging your reputation?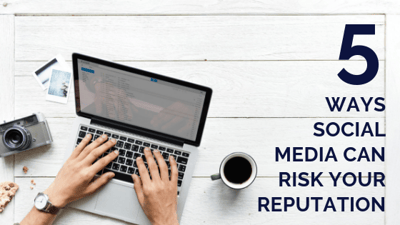 As part of a wider PR campaign, there are a range of benefits of being active on social media. For example, tweeting and posting on LinkedIn regularly can show authenticity, bolster your messaging and encourage people to engage with your company.
There are a number of questions a renewable energy company should ask themselves before embarking on a social media marketing campaign. But once your social profiles are up and running there are certain tactical things to look out for so that your efforts don't go the other way and end up damaging your reputation.
Here, we detail 5 things to look out for when using social media which could risk your reputation.
1. Keep it snappy
It's natural to think that if you are going to post about something, you should give your followers all the information about it.
But big chunks of text are daunting and boring for the reader, and they won't want to read through large paragraphs when they're scrolling through social media. Don't waste words, try to make every post as concise as you can.

It's much better to use a small piece of text to grab their attention and then offer them a place to find more information if they're interested.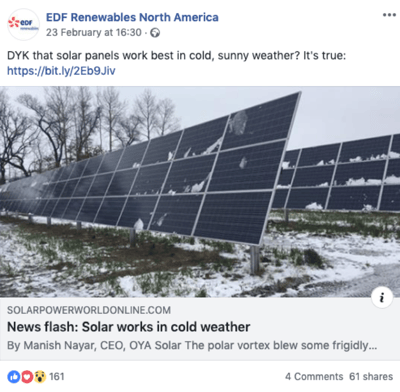 This post by EDF Renewables does this well by quickly introducing an interesting topic with a question, and then providing a link for the reader to find out more.
2. It's not all about you
Varied and diverse content is brilliant for keeping your social media accounts interesting and allowing them to appeal to a wide range of people.
There is a time and place for recycling content, but if you're posting the same thing again and again with no variation in your messaged, your followers may become less and less interested.
A wide range of diverse content should be used on social media. This could include a little bit of self-promotion, but also a lot of sharing industry news and referencing articles and press releases that are of interest to your audience.
Self-promotion is what most companies think social media is for, but your followers are probably more interested in what you have to say about important industry developments such as the end of the PTC or Brexit than hearing about your product line for the millionth time.
Be careful to limit how much you advertise your own products. How much are you overdoing the promotion? Is this making your engagement drop?
3. Find that regularity sweet spot
Many companies think the best approach to social media communications is to post as often as possible, giving their followers as much information and content as they can, all the time. This is certainly not the most effective strategy. Spamming your followers is a no no.
On the flip side, frequency and regularity in posting is key to growing an audience and encouraging engagement.
There are lots of articles on quantity of posts across different channels, but it has to be suited to you. Only have the capacity to post twice a week? Great – use these messages effectively. Have a social media management team and scheduling tool? Fantastic – varied, interesting content once a day could be possible for you.
4. Light-hearted content
How serious your content should be depends upon the social media platform you're posting on. LinkedIn is a professional network and posts there should generally reflect this. Twitter is used by a lot of journalists, so maybe make sure all your news is shared there. Facebook tends to be used in more personal time, so this is where your community focused messaging is best shared.
Don't be afraid to be funny. Everyone loves a laugh, and an occasional light-hearted post can be refreshing for your audience, as well as support that brand authenticity we mentioned earlier.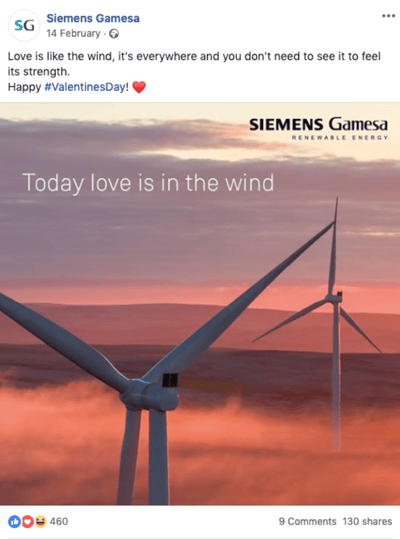 For example, this Facebook post by Siemens Gamesa effectively connected renewable energy with Valentine's Day. The post saw a lot of engagement and shares.
5. Balance how many profiles you have
Having more than one profile on a social media platform can be useful, for example if your South Africa team operates separately from your UK team.
Doing this allows you to share tailored and targeted content to the appropriate audiences.
However, having multiple profiles can be confusing for your followers to know which profile they should follow and could split your potential followers between different profiles.
Whenever possible, it is advantageous to have one core company profile and to post a greater variety of content on this channel.
It's not a one-size-fits-all strategy
Every tweet, LinkedIn update and Facebook post will have a different purpose and different call to action, requiring a slightly different approach. By keeping these 5 tactical points in mind, you minimise the risk of your social media communications efforts damaging your reputation which you've worked hard to create.
We've found that developments in renewable energy are fascinating, and people want to know about them. This presents an exciting opportunity for renewable energy companies to rapidly grow a public following which can be used to expand their business. It is essential that social media accounts are well-managed so that this opportunity is maximised.